New 120,000 sqft Building in Fort Myers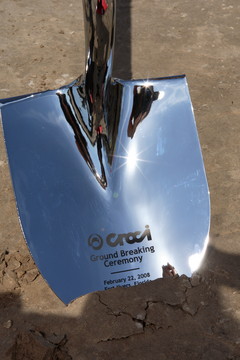 Croci North America is pleased to announce the ground breaking ceremony for their new 120,000 square foot headquarters located on Adelmo Lane ( formerly Tia Lane off Metro Parkway) at 11 am on Friday, February 22nd. Owner, Vittorio Croci, Chief Executive Officer., Gil Morzaniga, Fifth Third President, Kent Ellert and General Contractor, Robert Brown will do the official honors.
It is exciting to be able to expand during these economically difficult times says Gil Morzaniga. This has been the biggest challenge of my career with Croci, but it has been a rewarding experience. Completion is scheduled for the beginning of October 2008.
Morzaniga, a fifteen year veteran of the Croci Management team has experienced positive growth since its inception in the United States in 1995. His mission is to be the leader in the industry by providing quality controlled products based on the highest innovative research and development available.
Croci North America is part of the Croci International group based in Bologna, Italy, and is known world wide for the manufacturing of rolling hurricane shutters. We import the highest quality raw materials from Europe used in the manufacturing of our finished products that is distributed across the United States, Canada, Mexico, Bahamas, and the Caribbean Islands. Several of the profiles have received the approvals of the Florida Building Code, the Miami-Dade County Building Code, the Texas Department of Insurance (TDI), and the Southern Building Code Congress International (SBCCI).
The product line also includes Accordion, Bahamas and Colonial style shutters with the raw materials being purchased from U.S. local sources. Future plans include expanding into non-hurricane related window treatments.